I woke up last Thursday with just a little bit of hoarseness which then turned into a horrible sounding cough on Friday. I felt pretty awful so I got us some to-go chinese food while I was out picking up my prescription for Clo.mid. I had called in my refill earlier in the day and even got the text message to tell me it was ready, but when I got there, the tech claimed they not only didn't have my prescription, they had no record of me ever getting prescriptions filled there. I made him check like 4 or 5 times and then finally left, almost in tears, half screaming due to hoarseness "No, whatever, it's fine. We'll just take a month off. No big deal for you." I sat in my car and cried for a while before I went home to cry to Matt. By Saturday morning, I was getting so short of breath from coughing that it made me kind of panicky and I took myself to the ER. I got a breathing treatment and prescription for an inhaler and some horrible tasting cough syrup with codeine. When I went to pick up my ER prescriptions, the lady asked if I would like to pick up the other prescription I had ready. I could have kissed her. I managed not to cry when I told her about the kick to the ovaries by the guy the night before and was thankful to just get this last round of Clomid out of the way.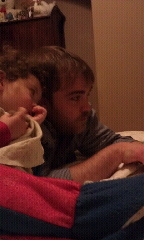 I had to nanny it up that night (Saturday) and my sweet husband was kind enough to not only drive me to work (since I was drunk on cough syrup), but he also pretty much took over for the most part. We took the kid to a place full of inflatables and then out to dinner. By the time we got home, it was time for pj's and Matt read him a bunch of books. As you can see, they were pretty freaking cute. And since spending time with Matt is always a special occasion for him, he wanted to hold Matt's hand to cross the parking lot, sit by Matt at dinner, have Matt read to him, etc... At one point when he was reading to him, the kiddo leaned into Matt's head and he teared up. We have to find a way to get him a kiddo!
I got lucky and didn't have to try and wait tables Sunday so I barely moved from the couch. I went from the couch to the bathroom and that is it. My sweet husband took good care of me though and my amazing friend Lisa left chicken curry soup, her MIL's sourdough bread, and some cupcakes on my front steps (which I finally ate some of today and WOW! delicious!) I was worried that I was going to have to trudge through 6 hours in the cath lab this morning but thanks to our first snow of the winter, I get another day to try and recover. I still have a terrible cough, low-grade fever, gross sputum, and very sore abs/ribs, but I can tell I'm on the upswing. Now I really have to find a way to concentrate and finish these psych flash cards for my test Thursday!
Oh...and I almost forgot! I finally bought my dress for our vow renewal! It made it so much more real and I can't wait to share our love in front of all our family and friends!